Agness and Cez of eTramping.com have been traveling the world since 2011. They have had quite a few unique sleeping experiences. In this special feature for Sleep Less, Dream More they share their Asia favorites and also give some budget tips!
This post is part of the series called 'Sleep less, dream more' in which we share uncommon sleeping places and circumstances travelers encountered during their trip.
Written by Agness Walewinder.
Here is the list of our unique sleeping experiences in Asia:
1. Ming Palace International Youth Hostel, Guilin, China.
We definitely have the best memories from this hostel. It is located in Guilin – one of the most touristic cities in China. We stayed there for three nights and we felt like home. The staff members were friendly and generous to everyone.
The dorms were cheap and very comfortable and we booked room with 10 beds in there and it still didn't feel crowded. What was the coolest about this place? You could write and draw anything you like on the walls all over the place. It was so cool to grab a pen marker and draw some awkward pictures of me and Cez travelling!
2. Garden Villa, Siem Reap, Cambodia.
That was definitely one of the cheapest places Cez has ever stayed at. You can get into a bunk in the dormitory for as little as $1. He slept on a roofed and mosquito netted mattress outside the building. The place itself was comfy. If you don't fancy sleeping outside, alternative is a room with just less than 30 people and a fan for $2, and single and double rooms for slightly higher price. In this way, you can easily spend a day in Siem Reap for less than $10.
3. Wooden house in Fenghuang, Hunan province, China.
Fenghuang is one of the oldest towns in China hidden in Hunan province. It's extremely small, but yet charming and breath-taking. As one of the oldest unchanged Chinese towns, it is worth exploring for the sake of its ancient architecture and authentic Chinese look. I stayed there one night in one of Chinese wooden houses. The view from my room took my breath away. I don't remember the name of the place, but there are plenty of them around so you will easily find it on your own.
4. Stanley beach in Hong Kong.
Yes, we slept on the beach, but not once or twice, many times. After an exhausting hike we've done together with French travelers, we felt like sleeping so we had a nap. The beach was quiet and there were not many locals there, apart from some kids. Comfy and relaxing!
Budget tips for your stay in Asia.
As we are budget travelers, who travel the world for less than $25 a day, we try to find as cheap accommodation as possible when on the road. Luckily, most of the Asian countries are extremely affordable when it comes to hostels, hotels, motels and sleeping bunkers. When visiting different countries across Asia, we have stayed in around 100 different places – from cheap Vietnamese motels where one night sleep costed us around $1-$2, quirky and dingy bunkers in Cambodia, cool and fancy hostels in Guilin, Beijing or Bangkok to free stays via couchsurfing.
When it comes to the price, we try not to spend more than $5 each per night which is nothing difficult in Asia, especially in south-east part. Most of hostels cost around $10, but if you know how to bargain, you can easily get a single room even for $3-$4. If your budget is tight, try couchsurfing. It's a great way to save money on your accommodation while meeting some amazing people who can show you around their town/ city and make sure you experience some local life.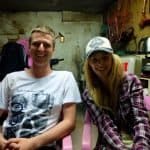 Meet eTramping crew – Agness and Cez – best friends and travel companions from Poland. These two are sharing their budget travel tips on how to travel the world with $25 in your pocket. Since 2011, they have been travelling the world while teaching English in different Asian countries such as China, Thailand or Cambodia. They are both photography passionate obsessed with Chinese cuisine and culture. Also check out our book: Travel Blogging: Build Audience, Improve Rankings and Earn Money.